Monthly Meeting
9/06/2022





Monthly Meeting
10/04/2022




Reverse Raffle
10/18/2022




Reverse Raffle
11/01/22
Max Wachtel
Mike Zicardi called to tell me Max Wachtel had a fall on Friday, August 12 and was taken to Mercy Hospital. He was diagnosed as having a stroke and now the doctors are concerned with brain bleeding and his falling blood pressure. He is in the ICU. Please keep Max in your thoughts and prayers tonight.
Meet the Scholarship Recipients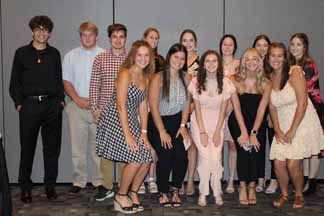 Scholarships were awarded to several college-bound students at our annual Unique Club Scholarship Dinner on Tuesday, August 2, 2022. The event was held at beautiful Arrowhead Golf & Event Center. The food was incredible and members and guests were treated like royalty by Arrowhead's staff. The resume's of Scholarship recipients was mind-boggling as one recent high school graduate had a gpa in excess of 5!
Unfortunately, two recipients were unable to attend because of illness. They are Mr. Michael P. Watters and Ms. Riley S. Williams. Mr. Watters received the Medical Doctor Scholarship Award in Memory of Dr. James Pagano and Dr. John A. DeVito. He graduate from Central Catholic High School and will be studying Biomedical Engineering at The Ohio State University. Ms. Williams received The Unique Club Members Scholarship Award in Honor of all Unique Club Members. She graduated from Jackson High School and will be studying Marine Science with a Minor in Spanish at Coastal Carolina University. Click here to view photos of last night's Scholarsip recipients.
Long Time Club Member Passes - Carl Pandoli
Less than one month after the passing of his loving wife, Rita, Carl Pandoli passed away today July 16, 2022. I'm sorry for the limited information but that is all I know at this time after hearing news from Mike Ziccardi. Carl and Rita were married for 67 years.
Papa Bear's Italian restaurant relocating to Thursday's Plaza, temporary closing Aug. 8
JACKSON TWP. – Papa Bear's Italian restaurant is moving a few football fields south to a new spot in Belden Village.
The popular purveyor of Italian dishes will relocate to 4744 Dressler Road NW in Thursday's Plaza. The move will make way for new business development at the current location.
It's the third move for the restaurant since its founding in the 1980s. Originally on Belpar Street NW, the late Joe DiPietro — founder of the Pizza Oven chain — relocated Papa Bear's to 4990 Dressler Road NW in December 1988.
No more Papa Bear's?:Stark Planning commission OKs plan to replace restaurant with retail stores
David DiPietro, Joe's son, said the current location will close Aug. 8. There is no set date for reopening down the street, but it will be sometime during the fall.
"It will be as soon as possible," DiPietro said, adding that the new location must be fitted with equipment, including furnishings and decor from the current location. "We're anticipating a short hiatus."
New Papa Bear's will be smaller than current restaurant
The new location will be a full-service restaurant, with a bar, carryout and delivery, DiPietro said. But plans call for only 80 seats in the new restaurant, compared with 340 at the current location.
The new Papa Bear's will be about the same size as the original restaurant on Belpar, while the design will be similar to the bar area in the current site, DiPietro said. Plans call for pulling the bar from the current location and installing it in the new restaurant.
The menu will continue to have the favorite dishes — baked ziti, stuffed shells and ravioli — customers are accustomed to enjoying at Papa Bear's, DiPietro said.
"We'll keep doing what we do good," he said.
Several factors played into the DiPietro's decision to relocate. The size of the current restaurant was key. Times have changed and few restaurants are still that large. It also has been difficult to find employees to staff a large restaurant, he said.
The coronavirus pandemic, which forced restaurants to close temporarily, also played a role.
"COVID hasn't helped any part of our business whatever," DiPietro said.
New business coming to current Belden site
In May, the Stark County Regional Planning Commission gave conditional approval to demolish the current restaurant and replace it with smaller buildings.
Drawings showed two 5,500-square-foot structures — separated by a drive — at the site. Plans indicate the building on the south would have two retail occupants, while the other has space for a restaurant and a retail business. A drive-thru is part of the north building.
DiPietro said he couldn't discuss the new project planned for the site at 4990 Dressler Road NW. Thomas English Retail Real Estate, based in Indianapolis, submitted plans for the project.
The company didn't respond to a request for comment.
Long Time Club Member Passes - Donald Joseph DiRuzza
CANTON - Donald Joseph DiRuzza, age 84, of Canton, Ohio, passed away peacefully on Saturday, June 18, 2022, in Charlotte, NC. Don was born July 1, 1937, to his parents Serafino and Josephine (Atteniese) DiRuzza, and was a long-time resident of both Canton and Sarasota, FL. A 1956 graduate of LincolnHigh School, he served eight years in the Army National Guard. On August 27, 1960, Don was united in marriage to the love of his life, Carol Wilson, at St. Joseph Catholic Church in Canton. Together they enjoyed 62 years of marriage and had four daughters, one son, nine grandchildren and one great-grandchild. He was a role model to his children and grandchildren. Put simply, he was their biggest fan. The love of this family was his primary focus, and his unwavering cheerful outlook was his finest trait.
During Don's career, he founded Ethel Wilson's Fashions in Downtown Canton on Cleveland Avenue with his mother-in law, Ethel Wilson. They eventually opened six retail stores in the Canton and Akron area. The store participated in the annual Football Hall of Fame Fashion Show, and Don served as a member of the Hall of Fame Committee. He was a long-time member of St. Michael the Archangel Catholic Church parishes in Canton and Siesta Key, FL, and St. Thomas More in Sarasota, FL. Additionally, he was a member of the Knights of Columbus.
Don never met a stranger and truly valued his friendships from Ohio, Siesta Key and Sarasota, FL. He had a magnetic personality and possessed a love for life. He was optimistic, energetic, and liked to stay busy. Don loved the outdoors, swimming, the beach, washing his cars, cleaning out the garage and tending to his flowers and tomatoes. He was an active tennis player, getting up every morning to play tennis with good friends while in Siesta Key. When in Canton, rarely a day passed that Don was not at the Hall of Fame Fitness Center enjoying amorning workout. In the evenings you could find him watching his favorite sports teams or enjoying a card game at The FourWinds or Lolli's. Don was equally proud of his Italian heritage. Every year he attended the Italian American Festival and was an early member of the Unique Club of Stark County.
Don loved to golf with his buddies, sons-in-law, grandchildren, and on his annual golf outing to St. Augustine, FL. He loved the comradery of golf. In 1987, this passion led Don to help establish a family golf outing and picnic "The DiRuzza Open", the highlight of the year for him.
Survivors include his wife, Carol; brother, Richard (Judy) DiRuzza of Hadley, MA; four daughters, Melinda (Scott) Brachmann of Winnetka, IL, Marci (Derek) Jones of Fort Mill, SC, Michelle (Scott) Kauffman of Canton, and Monica (Arnie) Rochester of Rocky River, OH; nine grandchildren, Spencer (Kristin) Kauffman, Zachary Kauffman, Mason, Pierce and Shelby Brachmann, Samantha andMarisa Jones, Reece and Ella Rochester; great-granddaughter, SpencerNicole Kauffman; brother-in law, Elmer Corbit, and many nieces, nephews, relatives, and friends. Don was preceded in death by his parents; son, Gregory; brother, Louis DiRuzza; sisters,Loretta Corbit and CarmieMcMahan; sister-in-law, Mary Lou DiRuzza and brother- in-law, Vic McMahan.
AMass of Christian Burial will be celebrated at 10:00 a.m. on Saturday, June 25, 2022, at St. Michael the Archangel Catholic Church in Canton. Family and friends may gather at the church beginning at 9:00 a.m. Entombment will take place at Calvary Cemetery. In lieu of flowers, memorials may be made to Siffrin Inc, 3688 Dressler Rd NW, Canton, OH 44718 or American Heart Association.
(ROSSI-330-492-5830) www.rossifuneralhomeinc.com
Emilia's Heritage Fun Patch

The following link will take you to a page inspired by Emilia, a young girl who is working on her Heritage Fun Patch with her girlscout troop. There is a link on Emilia's Page titled "Wine Cellar Innovations" covering the language, geography, culture, food and history of Italy. Emelia thinks you will enjoy the sections on Italian food and culture. I did! She is interested in her Italian heritage and I believe very proud as well. Her family comes from Naples. Thanks Emilia and good luck with your project! Should you know of other links that others would find interesting, please email me at rmoecia@gmail.com so they can be added to Emilia's Page.
Awful News for Fans of Papa Bears (Me)
CANTON – Plans to demolish Papa Bear's restaurant and replace it with two retail buildings have received conditional approval from the Stark County Regional Planning Commission.
Along with changes at the Belden Village area restaurant, the commission approved several other projects during a meeting Tuesday. The list includes a new headquarters building for Gregory Industries in Canton Township and plans for sports fields at Schuring Park in Jackson Township.
The Papa Bear's Restaurant at 4990 Dressler Road NW opened late in 1988. The late Joe DiPietro — founder of the Pizza Oven chain and Papa Bear's — relocated to the newly constructed building after operating Papa Bear's for several years in a building on Belpar Street NW.
The project submitted to regional planning calls for demolition of the 8,600-square-foot building. DiPietro Enterprises and Thomas English Retail Real Estate submitted the plans. 
What will become of Papa Bear's site?
Drawings show two 5,500-square-foot structures — separated by a drive — at the site. Plans indicate the building on the south would have two retail occupants, while the other has space for a restaurant and a retail business. A drive-thru is part of the north building.
The planning commission gave conditional approval because developers are working with the Stark County Engineer's Office to finalize plans for access to Dressler Road NW and for drainage.
DiPietro Enterprises is working on the project with BL Companies, an architecture and engineering firm based in Connecticut with an office in Green.
It's uncertain what changes might be made at the restaurant and how soon. Steve DiPietro declined to discuss the project when contacted by The Repository.
April Meeting
Our first meeting ever at the beautiful Arrowhead Golf & Event Center, managed by the DiPietro family, will be held on Tuesday April 5, 2022. Remember, dinner time has been changed to 6:30 pm but please arrive earlier to mingle with friends. This meeting is special for another reason. We are encouraging members to invite friends and family who might be a good fit for the club. There will be no high pressure tactics. They can see what we're all about and if they like what they see, they can join. If nothing else, they will enjoy a delicious meal on the house provided by The Unique Club of Stark County. Please let Terry Stan know if you will be attending and if you are bringing a guest. His email address is TMAN82000@yahoo.com.
Note, you do NOT have to be sponsored to attend this event! If you are a male, 18 years of age or older, living in Stark County Ohio and of Italian descent or married to a spouse of Italian descent, you are eligible to apply for membership and attend our April dinner meeting.
New Membership Drive
Save the date! Club members agreed our first meeting ever at Arrowhead Golf & Event Center on April 4, 2022 would be a great time to treat prospective new members dinner and to allow them to tell us all about themselves. This dinner meeting will be all about the prospects invited to dinner. So, if you have someone in mind that would be a great addition to the club, let them know to save the date as we would love to meet them!
New Officers 2022
The following is a list of officers beginning January 1, 2022:
Adam Mahon, President
Andy Ginella, 1st Vice President
Mark Capuano, 2nd Vice President
Leo Fernandez, Secretary
Forest Tolfo, Treasurer
Bob Rosetta, Trustee
Frank Rinalli, Trustee
Steve DiPietro, Trustee
Mark Mahon, Trustee
Dick Moecia will continue as webmaster for the internet site.
2022 Unique Club Calendar
The calendar for 2022 has been confirmed. We are excited to announce we have added several dates including our Scholarship Dinner and dinner meetings at Arrowhead Golf Court and Banquet Center for 2022. Additionally, we will continue to have meetings at our other great locations LaPizzaria, Papa Bears and Tozzi's on 12th Street. Click here to view the calendar.
Reverse Raffle
The 2021 Reverse Raffle is over. It was held at Tozzi's on 12th Street. Mark did a great job hosting the event. The food was delicious and served on a timely basis. Mark Mahon, Adam Mahon and of course their wives along with Ray Sprankle did an outstanding job running the event. It started at 8:00 promptly, numbers were called quickly Oand as usual the last five numbers called settled for $500 each. Winners are as follows:
Sam Dorto -$250 Side Board
Irene Moecia - $200 50-50 Raffle
Ron Heinzer - $500 Split
HERO Heating & Cooling - $500 Split
Dave Freudman - $500 Split
Trevor Stan - $500 Split
Holly Van Riper - Keller Williams Legacy Group Realty $500 Split
Congratulations to all and a big thank you to the Mahon/Sprankle team for generating much needed money!
2021 Scholarship Dinner Open to ALL Members and spouses
Dear Unique Club Members,
Please be advised that the Unique Club Scholarship Foundation Board convened a meeting to discuss this year's Scholarship Award Dinner.
The Scholarship Foundation Board is pleased to announce that this year's Scholarship Award Dinner will be OPEN to ALL MEMBERS and their spouses!! It is scheduled for August 3rd, 2021, at Skyland Pines with social hour starting at 6:00 pm and dinner starting at 6:30 pm.
In an effort to help defer the cost associated with the Scholarship Award Dinner, we are asking that all Unique Club Members who will be attending pay $20.00 per person (this includes all Board Members however, it does not include Unique Club Scholarship Donors, their guest and the Scholarship recipients and their guests). The $20.00 can be paid in advance by mailing your payment to the address above or you can pay at the door on the night of the event. We ask that you please confirm your attendance by emailing Andy Ginella at andy@ginellalaw.com or call 330-649-9600 to reserve your seating.
Correspondence was sent to the award recipients and their families regarding details of the dinner. The list of scholarship award recipients and the Committee member presenting the recipient is attached hereto.
Thank you to all our Members for your understanding and continued support during these trying times!!
Sincerely,
The Unique Club/Scholarship
Foundation of Stark County
Mark Mahon
President
Dinner Meetings Time Change
Don't forget, dinner is at 6:30pm from now on!