Monthly Meeting
10/04/2022





Reverse Raffle
10/18/2022



Monthly Meeting
11/01/2022



Christmas Dance
12/03/22
New Meeting Locations
We are excited to announce that in addition to Tozzi's and LaPizzaria, we shall have meetings at Lucia's and Michael D's in 2023. As soon as all meeting dates are confirmed with the restaurants, specific meeting dates and locations shall be posted on our Calendar Page.
Coppe di Fortuna Fund Raiser
Wow, the club has developed a new and exciting way to raise funds for the the club. Have you heard of "Queen of Hearts" game played at local bars and restaurants? Well, why not the Italian Version called "Coppe di Fortuna". We had our first round at our September meeting. There was no winner so the pot increases for our next meeting. Click here to view the rules.
Max Wachtel Passes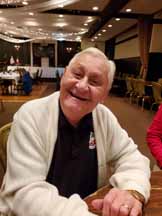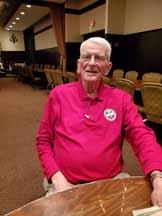 I am saddend to report our dear friend and Unique Club Member, Max Wachtel (left), passed away around midnight on Friday (8/26/22). Max was an amazing man and provided so much historical knowledge for our club. Max never missed more than a couple meetings over the ten years that I knew him. Max was always there with his friend Carl Pandola (right) at the front door collecting dinner dues as he rushed over to give the money to our treasurer when the meeting started.
At our Scholarship Dinner, I asked Max if he missed his buddy, Carl, who passed on July 16. A teary eyed Max said he was his best friend. In seeing Max at the hospital on Friday, unable to move, open his eyes or speak legibly, I honestly feel Max didn't want to be alive if like that and was ready to go. God bless Max and Carl, together again. They were so good for our club. Our thoughts and prayers go out to Max, his buddy Carl and their families!
Meet the Scholarship Recipients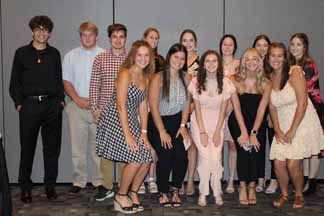 Scholarships were awarded to several college-bound students at our annual Unique Club Scholarship Dinner on Tuesday, August 2, 2022. The event was held at beautiful Arrowhead Golf & Event Center. The food was incredible and members and guests were treated like royalty by Arrowhead's staff. The resume's of Scholarship recipients was mind-boggling as one recent high school graduate had a gpa in excess of 5!
Unfortunately, two recipients were unable to attend because of illness. They are Mr. Michael P. Watters and Ms. Riley S. Williams. Mr. Watters received the Medical Doctor Scholarship Award in Memory of Dr. James Pagano and Dr. John A. DeVito. He graduate from Central Catholic High School and will be studying Biomedical Engineering at The Ohio State University. Ms. Williams received The Unique Club Members Scholarship Award in Honor of all Unique Club Members. She graduated from Jackson High School and will be studying Marine Science with a Minor in Spanish at Coastal Carolina University. Click here to view photos of last night's Scholarsip recipients.
Emilia's Heritage Fun Patch

The following link will take you to a page inspired by Emilia, a young girl who is working on her Heritage Fun Patch with her girlscout troop. There is a link on Emilia's Page titled "Wine Cellar Innovations" covering the language, geography, culture, food and history of Italy. Emelia thinks you will enjoy the sections on Italian food and culture. I did! She is interested in her Italian heritage and I believe very proud as well. Her family comes from Naples. Thanks Emilia and good luck with your project! Should you know of other links that others would find interesting, please email me at rmoecia@gmail.com so they can be added to Emilia's Page.
New Officers 2022
The following is a list of officers beginning January 1, 2022:
Adam Mahon, President
Andy Ginella, 1st Vice President
Mark Capuano, 2nd Vice President
Leo Fernandez, Secretary
Forest Tolfo, Treasurer
Bob Rosetta, Trustee
Frank Rinalli, Trustee
Steve DiPietro, Trustee
Mark Mahon, Trustee
Dick Moecia will continue as webmaster for the internet site.